The concrete surfaces of parkades are often treated with coatings either because the building code in Alberta demands it or good builders and professional managers insist on it. Traffic Deck Coatings are predominately made up of sealers that soak into the concrete or membranes which cover the surface but are both designed to protect concrete.
Painted and epoxy coated floors done so strictly for esthetic purposes should be avoided where possible as our Alberta environment here is too harsh and they quickly wear off and look unsightly and need to be done annually. As such, and despite a number of boastful manufacturer claims to the contrary, we won't apply these products because they simply don't last.
Alberta Sweeprite is manufacturer certified in the installation and application of a variety of waterproofing, concrete protective coatings and products and we only install or recommend what you need for the long term preservation of your parking structure.
Sealers (Single level or Basement only in multi story parkades):
Concrete sealers are broken down into two categories. Liquid Densifiers which are materials designed to penetrate concrete surfaces and chemically react to provide an increase in surface density and durability and Penetrating Sealers which soak into the concrete and are designed to repel water and other liquids
Important: All concrete sealers are applied only on the basement levels or in parkades and warehouses with one single level. This is because those areas are resting on compacted soils and there is no floor or level below with a protective membrane above.
Liquid Densifiers: When properly applied, offer considerable improvement in scratch, abrasion, pitting and chemical resistance and will greatly improve the durability of the surface when compared to untreated concrete. Liquid densifiers are more typically used in warehouses but in parkades they are recommend and installed in garbage enclosures, loading docks and anywhere subject to activity beyond normal tire traffic.
Penetrating Sealers: Are the most common sealers found in parkades and need to be periodically refreshed. These types of sealers penetrate into the concrete to form a chemical barrier that shields against moisture penetration and deicing chemicals. In almost all cases they provide invisible protection without changing the surface appearance so they are generally forgotten by the majority of property managers and building owners.
Penetrating sealers are a very inexpensive and an effective way to preserve your concrete and prevent the type of pitting and spalling on the surface you see with heavily salted sidewalks. Most types of sealers typically used effectively last about five to seven years. Alberta Sweeprite can test your concrete surfaces for a nominal fee to tell you what the current condition of your sealer is in. You can also have your building engineer perform these tests.
Penetrating sealers will also protect and increase the lifespan of your concrete curbs.
Membranes (2 or more levels):
Most parkades in Alberta with more than one level, certainly all those constructed in the past ten years, incorporate a traffic deck coating system designed to waterproof the concrete slab principally to prevent the delamination of rebar* from occurring due to the damaging effects of water and salts seeping through cracks, and to a lesser extent protect occupied areas underneath from water damage. Additionally, these systems will protect the concrete from the damaging effects of deicing salts, chemicals, gasoline, oils and anti-freeze.
Rebar is where the strength of the floor comes from. Delamination occurs as the rebar forms a hollow spot as the metal rusts.
Proper care and maintenance of these traffic deck systems (See our checklist under Contract Services), which are mostly urethane based, is critical in Metro Edmonton and Northern Alberta due to the use of the sand chips used on the roads during the winter months that in turn act like sand paper under the vehicle tires wearing down the membranes prematurely.
The effective waterproofing lifespan of a typical urethane membrane traffic deck coating in our neck of the woods and cleaned only once per year is 12-24 months. Elsewhere in less harsh climes where it doesn't snow or salt is the preferred ice treatment method these same systems offer warranties and effective lifespans of 5 and even 20 years.
Routine cleaning and periodic inspections and repairs will greatly increase the effective lifespan of a urethane traffic deck coating here in Alberta and if you adhere to a proper maintenance cycle you can drastically increase both the effective and overall lifespan of your membrane. For commercial properties cleanings of 8-12 times per year is recommended. For condominiums, at minimum four times per year should be done. The bulk of cleanings should occur in the winter months.
At least one scrub should be performed in spring and at that time a full leak test should be done to identify new cracks and evaluate the integrity of previous repairs. It is poor practice to wait until cracks become large enough to become an annoyance by dripping on cars or to stain the soffit of the slab with rust.
A typical urethane traffic deck coating as encountered in better than 95% of Alberta parkades constructed in the past decade broken into layers constitutes:
Concrete Slab: Any floor where there is another floor underneath;
Primer Coat: Allows the basecoat to adhere to the concrete;
The Basecoat: This is the waterproofing layer.
Urethane Layer One: Covers the basecoat and holds aggregate that reduces wear rate and provides traction;
Urethane Layer Two: Top coat wear coat.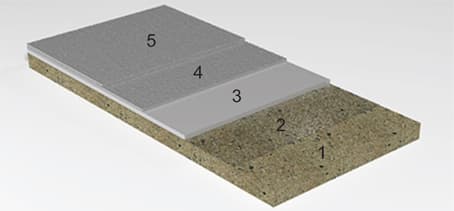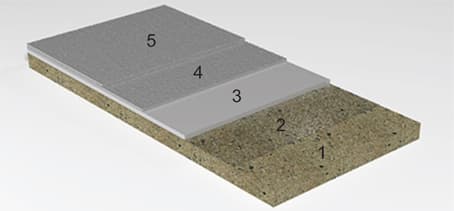 There is relatively little wear and durability difference between the majority of the traffic deck coating membranes installed in the Edmonton and Northern Alberta areas. None of them are warrantied by the manufacturer or installer much beyond a year or so. None are impervious to snow removal equipment or able to handle traffic on 90 or 180 degree turns for any decent amount of time.
The exception is Tremco Vulkem EWS. It is a more expensive product but it comes with a 10 year manufacturer's warranty against wear to the basecoat, is suitable for parkades where snow removal is necessary and is especially well suited for high wear ramps and turns. Due to its rapid 12 hour installation, in our environment it is the only reasonable choice for parkade entrances that can't be shut down for a week or so or where wear is a consideration.
Alberta Sweeprite specializes in the repair and replacement of a variety of deck coat membranes. From simple periodic maintenance recoats on turns and laneways to crack repair to full blown removal and replacement contact us first for the right advice for the products currently offered that are best suited for our environment.