We offer a variety of stall numbering solutions from simple and inexpensive painted numbers on plain concrete walls and curbs to decorative and crisp vinyl lettering over painted white walls.

We can also provide vinyl words on walls such as "Elevator", "Exit", "No Parking" or handicap symbols as an example.
Alberta Sweeprite uses the very durable Ennis Traffic Paint for line striping stalls both in parkades and on outdoor surface lots. This solvent based paint is designed for roadways and complies with the new Canadian federal regulatory requirements setting volatile organic compound (VOC) concentration limits for traffic marking coatings.
Solvent based traffic and parking lot paints are acrylic co-polymer based traffic markings formulated for use on highways, parking lots, crosswalks, stop bars, and legends.  Solvent based paint has versatile quick dry times with excellent durability, and is especially suitable for colder ambient applications where waterborne cannot be used.  It is designed to be used with or without glass beads.
The frequency of line striping is dependent on surface and traffic volumes. Generally lines painted upon traffic deck coatings with embedded aggregate will look new for as much as five years whereas traffic deck coatings painted over spalled concrete (rough surface) in parkades cleaned once per year generally need to be painted at every spring to look good. Asphalt parking lots and smooth concrete should generally be painted every second year.
As of September 10, 2012 traffic marking coatings containing more than 450 g/L of VOCs can no longer be sold in Canada, and there will be an annual seasonal prohibition, over the period of May 1 to October 15 inclusive, on the use of traffic marking coatings containing more than 150 g/L of VOCs.  For more information, please visit the Environment Canada website at www.ec.gc.ca/cov-voc.
Methyl Methacrylate (MMA)
Methyl methacrylate (MMA) based pavement markings are the most durable pavement marking materials available anywhere today.  MMA can be surface applied onto asphalt or concrete roadways or inlaid for longer service life, and are engineered for durable long line as well as transverse markings even in extreme conditions.
Formulated in a variety of mix ratios.
Can be applied in various thicknesses allowing the end user to address the needs of his own unique traffic environment
(*thickness depends on formulation).
Extremely resistant to snow plow damage.
Provides long life retro-reflectivity when matched with the proper glass bead.
Recommended for streets, highways, crosswalks, symbols, and legends.
Thermoplastic
Thermoplastic pavement marking material is a 100% solid, environmentally and user safe compound containing binder, pigment, filler and glass beads which liquefies when heat is applied.  Thermoplastic markings are highly durable, and display excellent retro-reflective properties in day, night, and wet conditions.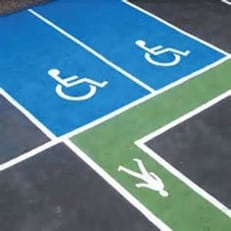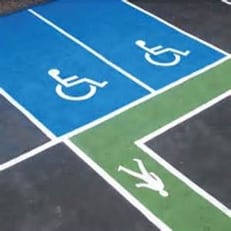 Mechanically adheres to all asphalt pavements.
Excellent long-term performance.
Intermixed beads for maintained retro-reflectivity.
Flexible application thicknesses.
Quick drying time, engineered to minimize lane interruptions and closures.
NOTE: Due to the heat required to create the adhesion thermoplastic is NOT suitable for parkades with traffic deck coating membranes.
Alberta Sweeprite: For those who demand the best and know the difference!